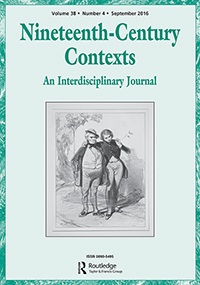 Nineteenth-Century Contexts: An Interdisciplinary Journal is a free-standing journal, published by Routledge (Taylor and Francis Group). It has a close and long-standing association with INCS, and is currently edited by Keith Hanley, Lancaster University, and Alexandra Wettlaufer, University of Texas at Austin; the Reviews Editor is Deirdre D'Albertis, Bard College. Nineteenth-Century Contexts appears in five issues annually, one of which is based on the INCS annual conference.
Nineteenth-Century Contexts is committed to interdisciplinary recuperation of "new" nineteenth centuries and their relation to contemporary geopolitical developments. The journal challenges traditional modes of categorizing the nineteenth century by forging innovative contextualizations across a wide spectrum of nineteenth-century experience and the critical disciplines that examine it.
Articles not only integrate theories and methods of various fields of inquiry–art, history, musicology, anthropology, literary criticism, religious studies, social history, economics, popular culture studies, and the history of science, among others–but also test and open up the very limits of disciplinary boundaries. Its scope of interest is not confined to any single regional or cultural area, and the relevance of the nineteenth centuries we read about to contemporary political flashpoints around the world remains a top priority. Interdisciplinary, international, and innovative, Nineteenth-Century Contexts is leading debate about where the next nineteenth centuries will occur.
For submissions, Nineteenth-Century Contexts uses Editorial Manager, an online manuscript managing system. Editorial Manager facilitates the submission of new and revised manuscripts, the discovery of reviewers, and the dialogue of editors with authors and reviewers, helping to create a faster and more transparent peer review process.
Please submit all manuscripts to Editorial Manager (editorialmanager.com/gncc), observing the requirements for anonymity. Nineteenth-Century Contexts no longer accepts any submissions via email or regular mail.
Further information about Nineteenth-Century Contexts, including the process of submission and publication, is available on its webpage at Taylor and Francis Online. Please be aware of predatory publishing schemes: the editors of Nineteenth-Century Contexts neither solicit articles nor request payment for publication.