#INCS2019 at Southern Methodist University
Award Winners
Nathan Hensley (Georgetown University), "Database and the Future Anterior: Reading the Mill on the Floss Backwards." Genre: Forms of Discourse and Culture 50:1 (April 2017): 117-137
Jury comment: "A simply beautiful way to locate the paradigm of the Anthropocene as an interdisciplinary model. […] The structure of his article itself instantiates the argument he makes about the unknowable, unrepresentable flood that violently moves the village from a static past to an unknown future: the "hinge moment" in the article is his turn to the analysis of "the information flood, the digital divide" and the uses and misuses of "machine reading." I absolutely didn't expect that […] Hensley has opened up for me in new ways three separate things: this novel, the scientific context that informs this novel, and the various modes of reading and re-reading that make Eliot so rich for scholars across disciplines."
Honorable Mentions:
Juliana Chow, "Partial Readings: Thoreau's Studies as Natural History's Casualties," Anthropocene Reading: Literary History in Geologic Times (Nov. 2017)
Shaden Tageldin, "Fénelon's Gods, al-Ṭahṭāwī's Jinn: Trans-Mediterranean Fictionalities," Philological Encounters (January 2017).
2018 Susan Morgan Graduate Student Essay Prize
Anne-Charlotte Mecklenburg (U of Michigan, Ann Arbor), "Spoiler Alert: The Sensational Temporalities of Serial Television"
Jury comment: In a paper that covers ground from the sensation novels of the 1860s to contemporary "puzzle shows" such as Lost, Mecklenburg ingeniously analyzes the rhetoric of the "spoiler alert": the implicit understanding that certain kinds of serialized narratives can be ruined if certain plot details are divulged. Mecklenburg asks, What exactly is a spoiled reading? What are the origins of this animus against revealing the plot? And what does the assumption that certain kinds of serials can never be re-read say about their genre and the expectations that readers bring to them? These are the kinds of fascinating questions that this essay examines. Not only is this paper an elegant engagement with the theme of the 2018 INCS conference, it also opens up opportunities to rethink the rhetoric that surrounds a broad range of texts and narratives, from the Woman in White to Westworld.
Honorable Mention:
Imogen Forbes-Macphail (UC Berkeley), "Counted Pulses: Time and Space in Pre-Raphaelite Poetry"
ANNUAL CONFERENCE: SAVE THE DATE!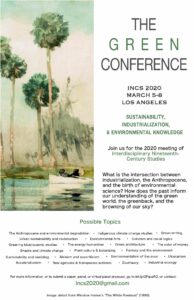 The Green Conference. March 5-8, 2020. Los Angeles, CA
SUSTAINABILITY, INDUSTRIALIZATION, & ENVIRONMENTAL KNOWLEDGE
What is the intersection between industrialization, the Anthropocene, and the birth of environmental science? How does the past inform our understanding of the green world, the greenback, and the browning of our sky?
Possible Topics
The Anthropocene and environmental degradation
Indigenous climate change studies
Green writing
Urban sustainability and reclamation
Environmental Arts
Colorism and racial logics
Greening blue/oceanic studies
The energy humanities
Green architecture
The color of money
Empire and climate change
Plant culture & botanizing
Fantasy and the environment
Sustainability and rewilding
Ableism and ecocriticism
Environmentalism of the poor
Utopianism
Accelerationism
New agencies & transpecies activism
Ecotheory
Industrial ecology
For more information, or to submit a paper, panel, or virtual panel proposal by 15 September 2019, visit the conference web site, or contact: incs2020@gmail.com
Future Conferences
2021 | Salt Lake City, UT