SAN FRANCISCO AND ROME IN 2018 (scroll down for details)
---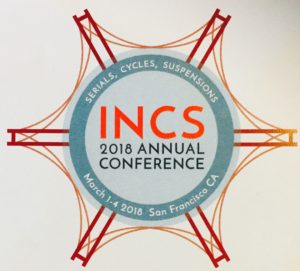 Serials, Cycles, Suspensions. The nineteenth century was shaped by serial forms of organization, production, and communication. By the nineteenth century the idea of the "series" had moved from the discipline of mathematics into the culture at large, as theories of temporal and spatial connection became dominant organizing principles for systems of knowledge developed in laboratories, libraries, and museums. Implied within seriality is both the continuity of cycles and the discontinuity of suspensions. INCS 2018 invites proposals for papers having to do with any aspect of nineteenth-century seriality, including, but not limited to:
SERIAL CULTURE (PRINT, LITERARY, VISUAL ARTS, THEATER, ENTERTAINMENTS): serial narrative, serial poetry, serial readers, periodicals, newspapers, magazines, the penny press, sequels, chapters, spinoffs, adaptations, serial photography, moving pictures, panoramas, song cycles, operatic cycles, sonnet cycles, musical canon, fugues, story cycles, genres, Bildungsroman, science fiction, steampunk, vampires, mysteries, cartoons, animations, echoes, allusions, narrative suspense, middles, cliffhangers, narrative immersion and world-building, suspension of disbelief, serial rhetorical forms (prolepsis, procatalepsis, hypophora, paradox), repetitions, rhyming, meter, caesura, variations, reinventions
SERIAL TIME: calendars, clock faces, seasons, standardized time, empty homogeneous time, typological time, historical materialism, the dialectic, diurnal time, the working day, the liturgical year, academic terms, courts of assize, revolutions, resurrections, reincarnation, evolutionary cycles, suspended revolutions (1848), fashion cycles, interruptions, stutters, prophesy, psychological and social developments (childhood, adolescence, adulthood), life cycles, hormonal cycles, addictions, apocalypse, inheritance, trauma and repetition compulsion, recurring dreams, causality dilemmas
SERIAL INVENTIONS AND TECHNOLOGIES: suspension bridges, train tracks, serial numbers, circuit boards, the arithmometer, difference and analytical engines, automata, escalators, fax machines, Braille, mechanization, manufactories, power looms, punch cards, evolution, dialectical materialism, circulatory systems, catalogues, optical illusions, stereoscopy and stereoscopes, phenakistoscopes, zoetropes, cameras, panoramic photography, the Cinématographe, the Kinetoscope, the Mutoscope, celluloid, bicycles, carousels, Ferris wheels, suspenders, crinolines, hot air balloons, panoptic structures, treadmills, piano rolls, gramophones, rotary presses, stereotypes
Deadline: October 15, 2017 [extended to October 22, 2017 because of California wildfires]
For individual papers (250-word proposals) or panels (a single document including a a 250-word panel description accompanied by 250-word abstracts and one-page participant CVs) to the SFSU submission portal. You will be prompted to post a one-page CV with your name, affiliation, and email address (for panels this information should correspond to the organizer). Proposals that are interdisciplinary in method or panels that involve multiple disciplines are especially welcome. For questions please contact conference organizer Sara Hackenberg.
---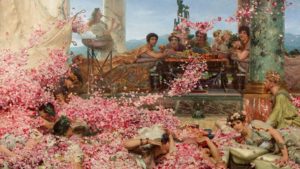 The INCS program committee invites proposals for papers on the theme of MEASURE AND EXCESS in the long nineteenth century. From Aristotle's famous attack on excess in the Nichomachean Ethics to twenty-first century denunciations of the dissipations of financial capitalism, the margins of excess have been redrawn throughout the ages. Although the nineteenth century is often associated with ideas of restraint and moderation, manifestations of excess appear everywhere in social, cultural, economic, literary, and political realms. The myth of the artist as an outcast who exceeds moral, sexual, and aesthetic rules is a nineteenth-century construction; so too is the positivistic notion of the "measurability" of all things, human and non-human, and the consequent project of containing and repressing the potentially subversive "excesses" of the non-rational.
How did nineteenth-century writers, artists, philosophers, intellectuals, economists, scientists and politicians articulate the dialectics of measure and excess? In William Blake's famous formulation, "the road to excess leads to the Palace of Wisdom." For Charles Dickens, on the other hand, "Vices are sometimes only virtues carried to excess!", while Oscar Wilde would opine that "moderation is a fatal thing." How were moderation and extravagance conceptualized in relation to aesthetic ideals, legal principles, ethical norms and political doctrines? How did the discourses of science contribute to redefining ideas of measure? In what was considered by many as the "Money Age," prudence and financial excess co-existed in the theory and practice of the credit economy. What hierarchies of value presided over the regulation of profligacy, extravagance, and wastefulness, whether economic or moral? What emotional tastes and fashions emerged as a response to both? The arrangements that structured everyday experience in the "Serious Century" hinged on notions of regularity. Yet the irregular was an object of intense fascination in the discourses of science as well as in poetry and fiction.  What were the uses of irregularity and excess?
Topics may include, but are not limited to:
Moderation and extravagance in fiction
The poetry of limits
The wisdom of excess
Formal constraints
Grotesque and caricature
Irrational exuberance
Financial excess and regulations
Social forms
Statistical measures
Science and taxonomies
Un/disciplined subjects
Culture and anarchy
Beyond gender boundaries
Addiction and temperance
Limits of knowledge
Realism and excess
Sensational limits
Domestic excess
The beauty of measure
Religious zeal and atheism
Imperial exaggeration
Restrained and excessive bodies
Criminal excess
Linguistic exuberance
Extravagant entertainment
Excess and measure in music
Pollution and purification
Mobility and travelling
Extremes of political activism
Sexuality
Emotional excess
Excessive measures
Familiar excess
Excess, affect and desire
The art of excess
Measuring life
Limits, borders, boundaries
Instruments of measurement
Deadline: October 30, 2017. EXTENDED TO NOVEMBER 19, 2017.
For individual papers, send 250-word proposals; for panels, send individual proposals plus a 250-word panel description. Please include a one-page CV with your name, affiliation, and email address. Proposals that are interdisciplinary in method or panels that involve multiple disciplines are especially welcome. Send proposals (and questions) to incsroma@gmail.com
Future Conferences
2019 | Dallas, TX
2020 | Los Angeles, CA
2121 | Salt Lake City, UT